Test Your Sci-Fi Knowledge with This Quiz: Star Wars, Star Trek, Red Dwarf, and More!
A Sci-Fi quiz with some of my favourite SciFi movies and sci-fi TV series. I have always been a big fan of anything to do with science.
Star Wars is still considered to be one of the biggest sci-fi movies. Personally, I also enjoy B-Movies such as They Live. If you haven't seen it I recommend you give it a watch. It's not a big-budget film, but it is quite clever and funny. The Hidden is another classic that should be added to your list of films to watch.
We also have a Classic Star Trek Quiz and a Star Trek The Next Generation Quiz. As well as a Red Dwarf Quiz which is one of our personal favourites. We also have The Space Quiz 12 Questions with Answers
Alien has to be one of the scariest sci-fi movies. Guardians of the Galaxy has to be one of the funniest science-fiction films. The oldest sci-fi movie that I have seen is Metropolis. When you consider it was filmed in 1927 it really must be classified as an antique masterpiece.
So your mission is to answer the questions below. Find out if you are a Sci-Fi Quiz Master
Sci-Fi Quiz
Questions to test your sci-fi knowledge. From Andromeda to Zachariah Smith.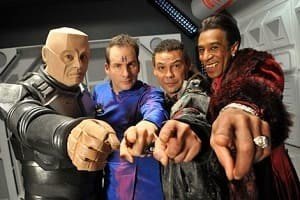 Try These Science Fiction Quizzes Next
---
---
Star Trek Quiz – The Original Series
Red Dwarf Quiz – The Smeghead Test
---
Space Quiz – 12 Questions with Answers
Take the Doctor Who Quiz: 12 Questions with Answers on the Time Lord and His Companions
I hope you enjoyed The Sci-Fi Quiz