"The Ultimate Father Ted Quiz: Discover Your Ecumenical Superfan Status Now!"
The Father Ted Quiz Are You An Ecumenical Superfan? Find Out Right Now!
This hilarious series follows three Catholic priests that have been banished to the tiny Isle of Craggy Island just off the Nest coast of Ireland. The main characters are Father Ted Crilly (Dermot Morgan), the daft but lovable Father Dougal McGuire (Ardal O'Hanlon) and the potty-mouthed Father Jack Hackett (Frank Kelly).
Who could forget the bonkers parochial housekeeper Mrs Doyle played by the brilliant Pauline McLynn. Day or night she's ready willing and able to make a nice cup of tea. 
Mrs Doyle: "It doesn't matter what day it is, Father. There is always time for a nice cup of tea! Didn't our Lord Himself on the cross pause for a nice cup of tea before giving Himself up for the world?"
Take The Father Ted Quiz Go On Go On Go On. Don't be a Dougal because that would be an ecumenical matter.
Father Ted Quiz
Classic British comedy at its best. Three priests and Mrs. Doyle the devout housekeeper. How well do you know the series?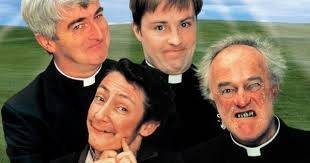 Which Father Ted character are you?
Bottom Quiz – Richie and Eddie from the anarchic cult comedy
Red Dwarf Quiz – The Smeghead Test